Welcome to Under the Bridge Watersports!  The best water sports location in Ocean City, Maryland!  We are committed to providing the best Jet Ski and Pontoon Boat rental experience you've ever had.
We (in our opinion) have the best riding area in the entire Ocean City – right in the middle of all the action!  The sights and scenes are like no other.  We are tucked under the Rt 50 bridge in Downtown Ocean City right beside the Angler Restaurant & Bar on the corner of Talbot & Caroline Street.  Lots of people choose us because of our amazing riding areas and locations next to Assateague Island.
Our Jet Ski ride is known as the "6-mile ride"!  Once we cross the sand bars we'll head straight past the million dollar houses and Sunset Marina.  Once we get to the tip of Assateague Island we let loose and have an amazing scenic filled ride right along Assateague Island all the way to the Verrazano Bridge and occasionally get to see the wild Assateague Ponies grazing on the beach and the Dolphins swimming in from the Ocean.  It's a ride unlike any other in Ocean City and one you will never forget!  If you haven't jet skied with us yet, find out why so many people choose us as their go to when coming into town!
We also offer private Pontoon Boat rentals for a day of cruising the bay, fishing with your friends and family with fishing & crabbing packages or renting a tube!  So many people choose us because of our location!  We're just a stone throw away from the famous Assateague Island, where we allow you to park your boat right on the beaches and sand bars of Assateague for a day of exploring the Island and lounging in the calm waters.  Want to booze cruise?  How about pulling your boat up VIP style to some of Ocean City's top hot spots like Seacrets, Fish Tales or Fagers Island like a local!?   Want to just go slow and live in the moment?  We can help you do that too!  Renting your own private boat will be one of the best experiences and memories you and your family will ever have!  Let your minds run wild – your perfect day on the water awaits!
After riding, make sure to take some time to relax and grab a bite to eat or drink at the Angler Restaurant & Bar and watch the million dollar boats go by when the Route 50 drawbridge opens and closes right before your eyes!  We truly have the best spot and views in Ocean City!  You should see the sunset!  During Happy Hour they usually have live music and great drink and food specials.  And to top it off, you'll get a 10% discount on food and drinks (excluding Happy Hour specials) because you rode with us!  Just show them your confirmation email when you sit down!
Want to make a day of it?  Get in touch with us before you come so we can help you plan your trip!  Hang with us for a while then walk to play some games or ride some rides on the Boardwalk.  Whatever your heart desires, there is plenty to do where we're located so come Downtown and make a day of it!
All in all, we know you'll have a great time with us!  Under The Bridge Watersports was established in 2010 and has served thousands of families and people over the years, helping them create the best memories during their vacation!  Let us help you be next!  If you have not yet rented from us, give us a try and we know you won't regret it!
See you Under DA Bridge!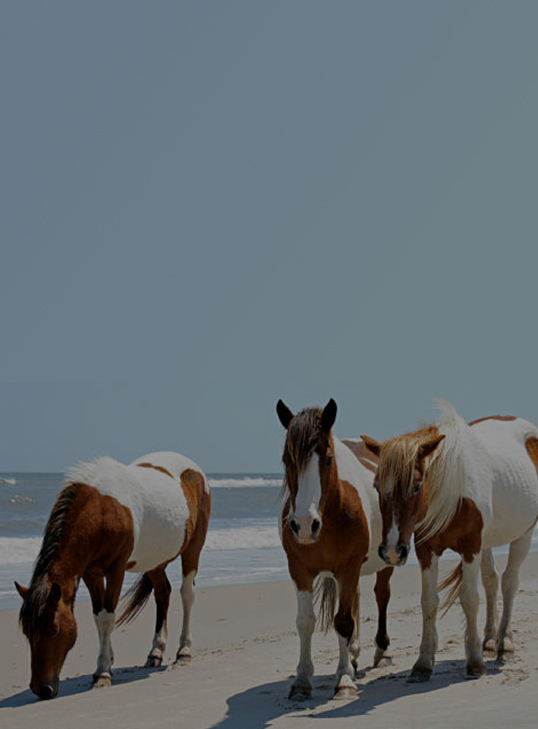 Best Riding Area in OC
Near Assateague Island!
See the Assateague Ponies when you Jet Ski and park your boat
on the beaches of Assateague.